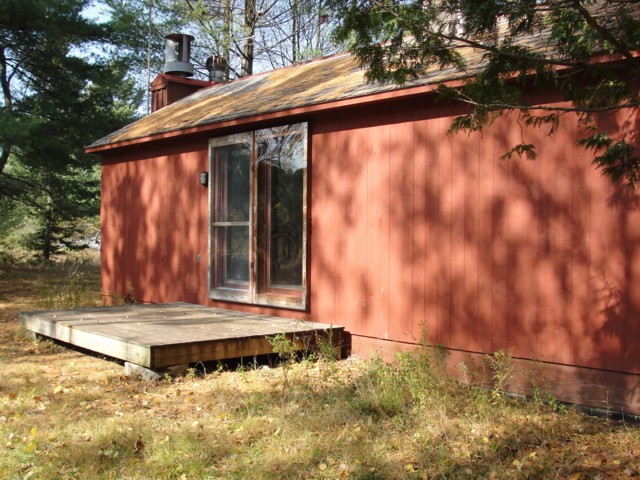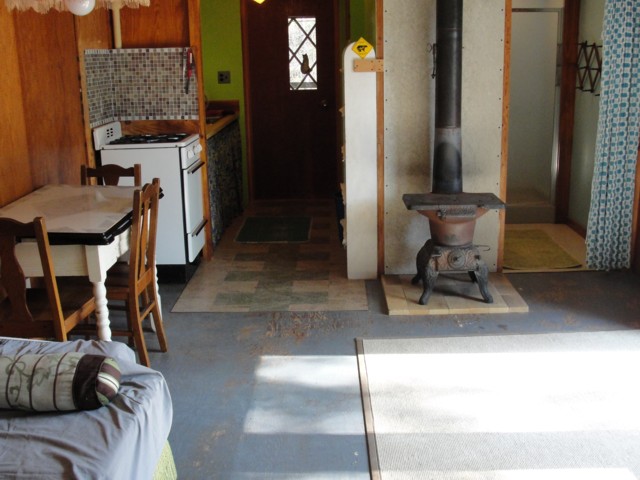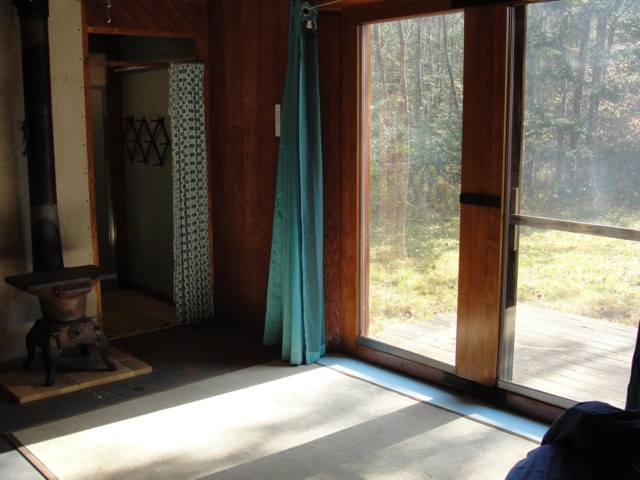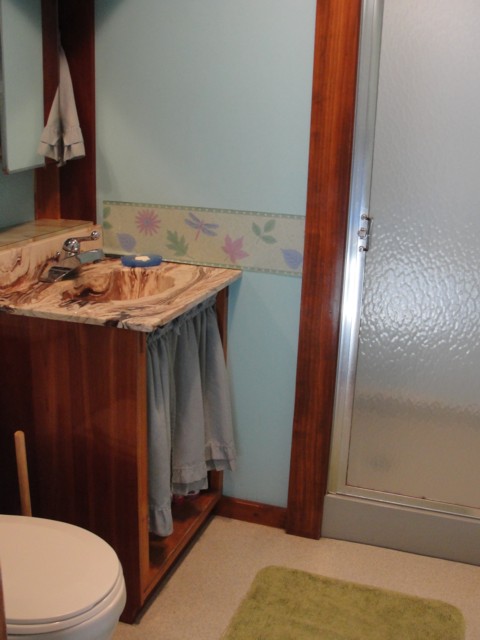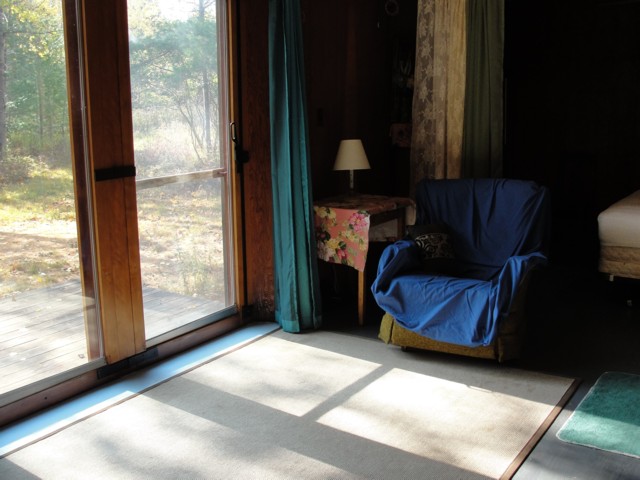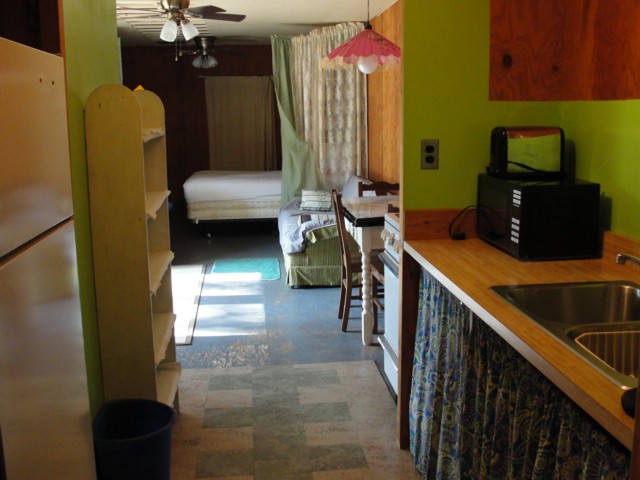 The Studio is a small superinsulated home standing among trees with a lawn in front on the South side. There is a small wood deck in front. This cottage does not have a direct view of the lake but is a brief 2 minute walk or drive from our lake front area.
The bedroom area at one end has a standard size double bed. There is additional sleeping space in the entry room where there are two cot beds. This room is not as heavily insulated as the remainder of the Studio but is fine during mild weather. It may be heated if you have extra people during cold weather.
Entering the cottage from the East end you pass through the entry room and enter the compact kitchen. There is a refrigerator on the left and a counter with a double compartment stainless steel sink on the right with storage space below. There is a microwave oven, toaster, and coffee maker. Just beyond on the right is a 4-burner gas stove with oven.
Turning to the left upon leaving the kitchen area is the bathrook with a large shower. To the right is the dining table, and all beyond is the main living area with the sleeping space at the end.
We rent this cottage as a housekeeping unit. You must thoroughly clean the Studio just prior to your departure. Pillows and blankets are provided for your use, but you need to bring your own linens: towels, sheets, pillow cases, and all expendables such as soaps and toilet paper. There is a firepit in the front yard and you must supply your own firewood from the wood racks to be found in Tupper Lake, where you will also find an assortment of grocery stores and other amenities.
Pets are not allowed.

You are responsible for cottage cleanup.
Our rental rates are based on the understanding that our cottages be left as clean or cleaner than they were when you arrived. You are also responsible for disposing of all trash and garbage. This assures that you can expect to find a clean cottage upon your arrival.
Prices charged, including the balance of your cottage rental, are those currently in effect at the time of your arrival regardless of when you made your reservation. Those making reservations prior to the new year are notified of any change in their rate on our mid-winter reservation reminder card. If you are dissatisfied with the new rate, you may cancel your reservation by the end of February and I shall return your deposit.
Our rental week runs from Saturday noon to Saturday noon. We rent for whole week periods. The rate for the Studio is $600 per week plus tax for up to 4 people, children included. Beyond 4 people, we add $100 per week per person plus tax in excess of 4. To make a reservation, we require that you send a deposit of one-half the total amount, and pay the balance upon arrival. The additional 'tax' mentioned is a 3 percent County 'bed tax' that amounts to $18 on the base rate of $600 (plus $3 additional for each additional $100 on the rate. The tax is due when paying the balance. All payments, both deposit and balance, are final and will not be refunded.
Please CALL Dick Bentley at 518-359-9300 before sending DEPOSIT check.
(And, please make all checks payable to: Richard Bentley)


Dick Bentley
50 Mount Arab Road, Box 786
Tupper Lake, NY 12986

Each of our cottages has free access to one aluminum rowboat or aluminum canoe. Whether or not the available craft is a boat or canoe depends on whatever is available at the moment of use. Anyone wishing to use an additional boat or canoe must work out an arrangement on their own with the guests of another cottage. I expect this will not be difficult as all of our guests are always very friendly people. Our boats are for use ONLY on Eagle Crag Lake. Our canoes may be used ONLY on Eagle Crag, in the outlet of Eagle Crag below the dam, and on Mount Arab Lake. (There is a short carry to Mount Arab Lake.)
Thank you for your interest - you will not be disappointed.
Dick Bentley &nbsp bentley@northnet.org &nbsp (518-359-9300)